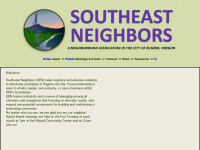 Southeastneighbors.org is only little known. It is using the content management system WordPress. The website is hosted on a Nginx web server. It is using HTML 5 as markup language and the loadtime is fast with an average of 0.7 seconds.
Website Profile
| Domain | southeastneighbors.org |
| --- | --- |
| Homepage URL | http://www.southeastneighbors.org |
| Title | Southeast Neighbors | Eugene, Oregon |
| Description | Eugene, Oregon |
| Language | english |
| Popularity | 1% of all internet users in the english-language internet know this website. |
| RSS Feed | Southeast Neighbors Feed |
Used Website Technology
This websites redirects to Southeastneighbors.wordpress.com. There might be no information about the used technology on this websites or maybe it is incorrect.
Webserver
Nginx Nginx
Website Software
WordPressWordpress
HTML Version
HTML 5HTML 5
Encoding
text/html
Website Speed
0.7 seconds

good
Social Media Coverage
Server and IP Information
IP-Adress
192.0.78.25
Internet Service Provider
Automattic
Server Location

San Francisco, USA

Websites on this IP
13,967 other website are located on this IP adress:


This list is just a selection of websites on this IP adress.