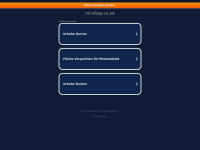 Rsi-shop.co.uk is only little known. The website is hosted on a IIS web server. It is using XHTML 1.0 Strict as markup language and the loadtime is very fast with an average of 0.4 seconds.
Website Profile
| Domain | rsi-shop.co.uk |
| --- | --- |
| Homepage URL | http://www.rsi-shop.co.uk |
| Title | The RSI Shop - Helping you to avoid Repetitive Strain Injuries (RSI) |
| Description | The RSI Shop specialises in providing a wide range of ergonomic equipment for use with computers in the UK. We also provide RSI prevention tools incuding hardware and software. |
| Keywords | rsi software prevention ergonomic products keyboard mouse |
| Language | english |
| Popularity | This website is not well known in the english-language internet. |
Used Website Technology
This websites redirects to Adapt-it.co.uk. There might be no information about the used technology on this websites or maybe it is incorrect.
Webserver
IIS 8.5 IIS
HTML Version
XHTML 1.0 StrictXHTML Strict
Encoding
text/html; charset=UTF-8UTF-8
Website Speed
0.4 seconds

very good
Social Media Coverage
Server and IP Information
IP-Adress
84.18.198.198
Internet Service Provider
Catalyst2 Services Limited
Websites on this IP
49 other website are located on this IP adress:


This list is just a selection of websites on this IP adress.