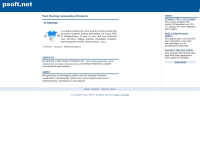 Psoft.net is a popular website. The website is hosted on a Apache web server, running on the operation system CentOS.
Website Profile
| Domain | psoft.net |
| --- | --- |
| Homepage URL | http://www.psoft.net |
| Title | Web hosting control panel server management and administration software |
| Description | Positive Software provides web hosting industry with advanced software and turnkey solutions using Hosting Control Panel, Server Management and other Administration Softwares for the automation of day to day web hosting operations. |
| Keywords | web hosting software control panel automation hsphere site builder studio sitestudio virtual private server vps management administration |
| Language | english |
| Popularity | 9% of all internet users in the english-language internet know this website. |
| RSS Feed | Positive Software News |
Used Website Technology
This websites redirects to Odin.com. There might be no information about the used technology on this websites or maybe it is incorrect.
Operation System
CentOS CentOS
Webserver
Apache 2.2.3 Apache
Encoding
text/html; charset=UTF-8UTF-8
Website Speed
0.57 seconds

good
Server and IP Information
| IP-Adress | 199.115.107.14 |
| --- | --- |
| Internet Service Provider | Parallels |
| Server Location | Renton, USA |