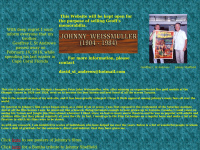 Geostan.ca is only little known. The website is hosted on a Apache web server.
Website Profile
| Domain | geostan.ca |
| --- | --- |
| Homepage URL | http://www.geostan.ca |
| Title | Johnny Weissmuller |
| Description | The best and most complete website on Johnny Weissmuller with biographical and career information |
| Keywords | johnny weissmuller weismuller johnnie maureen o'sullivan sheffield brenda joyce tarzan jungle jim bomba |
| Language | english |
| Popularity | This website is not well known in the english-language internet. |
Used Website Technology
This websites redirects to Websites.ca. There might be no information about the used technology on this websites or maybe it is incorrect.
Webserver
Apache Apache
Encoding
text/html
Website Speed
0.31 seconds

very good
Server and IP Information
IP-Adress
67.212.91.252
Internet Service Provider
Netelligent Hosting Services
Server Location

Montréal, Canada

Server/IP Contacts

Netelligent Hosting Services Inc.
800 Square Victoria
C.P. 118
Montreal
H4Z 1B7
CA


Websites on this IP
25 other website are located on this IP adress:


This list is just a selection of websites on this IP adress.